Moving to France, Brittany, Dom Tom and Overseas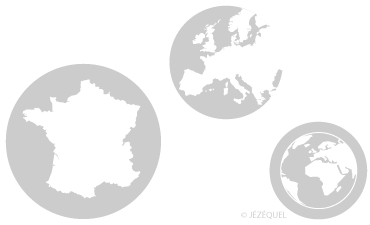 Jezequel company organises your removal to France and to worldwide
In addition, we conduct regular trips between Britain, Toulon, Paris and Lyon for our military customers, professionals or individuals. Feel free to ask at our helpline!
Contact us for your removal to or from Brittany, all over France and Dom-Tom!
Are you thinking about moving house or business and looking for a professional local movers team  ensuring a first class move where every detail is managed and every question is answered? We are the solution!
Our company  situated  in  north west of France, in Brest and Landivisiau is supplying all your removals needs for more than 30 years!
« Make it safe, secure and easy »
Price of a removal to or from finistere to (or from) France, Dom-Tom, Europe and others
How is our price list of services done?
Prices are fixed depending on the cubage , type of  service asked  and miles done for the removal.
Enjoy a stress –free relocation from your local moving company. All removals are unique and that is why we are so attached to details. Effectively, we ensure a first class move where every detail is managed.
All removals are unique and  that is the reason why we take all details into consideration to be able to fix you the best option at the best price.
Do not hesitate to contact us by phone for more information.
Practical information : Distance estimation (by road) for a removal of Finistère (example: Brest) to (or from) the main cities of France
Brest
Angers
Pays de la Loire
377 km
Brest
Bordeaux
Aquitaine
644 km
Brest
Clermont-Ferrand
Auvergne
822 km
Brest
Dijon
Bourgogne
861 km
Brest
Grenoble
Rhône-Alpes
1120 km
Brest
Le Havre
Haute-Normandie
467 km
Brest
Le Mans
Pays de la Loire
397 km
Brest
Lille
Nord-Pas-de-Calais
761 km
Brest
Lyon
Rhône-Alpes
1012 km
Brest
Marseille
Provence-Alpes-Côte d Azur
1282 km
Brest
Montpellier
Languedoc-Roussillon
1122 km
Brest
Nantes
Pays de la Loire
296 km
Brest
Nice
Provence-Alpes-Côte d Azur
1438 km
Brest
Paris
Île-de-France
593 km
Brest
Reims
Champagne-Ardenne
726 km
Brest
Rennes
Bretagne
244 km
Brest
Saint-Etienne
Rhône-Alpes
950 km
Brest
Strasbourg
Alsace
1070 km
Brest
Toulon
Provence-Alpes-Côte d Azur
1346 km
Brest
Toulouse
Midi-Pyrénées
881 km
(Distances for reference only)